I'm worried about Barack Obama.
I'm worried because I keep hearing about the angry crowds at McCain/Palin rallies who are yelling things like "traitor", "terrorist" and, unbelievably, "off with his head" when Obama's name is mentioned.
"Off with his head"?!?! Some people are really and truly nuts.
Really and truly nuts, and probably racist too.
There is no question in my mind that there is a scarily sizable chunk of the population that is appalled that a black man could become the next President. I heard an interview with one man who said that he "couldn't live in a country that had Obama as President".
Buh-bye, then. Don't let the door hit you on the way out.
I am worried though. And, I'm disgusted that McCain and Palin have not come out stronger against people who chant such things at their rallies. Especially things like "off with his head" or "kill him". It's unconscionable.
If things keep going this route, I'm going to suggest that Obama contact Rome for some "divine" intervention.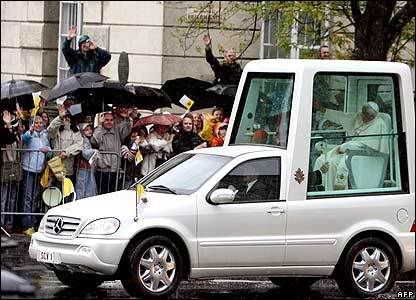 Because, really, if something terrible were to happen to this man, I think another bit of my faith in humanity would go up in smoke.