Jilly, my little sprite, the one with the munchkin voice who flits around here like a ballerina on stimulants, will be six in a couple short weeks.
Six!
As hard as it is for me to accept that I have an eight-year-old daughter, it is even harder for me to wrap my head around Jilly turning 6. Maybe it is because I can still lift her with one arm, or because she still prefers to sit on my lap than anywhere else.
Maybe because she's "little" physically, I keep her little in my brain.
I think I expect less of her because of this: when she reads or does math in her head, I'm thrilled. When she goes to a playdate at a friend's house without me, I marvel at her independence. When she does her chores without being asked, I beam.
When she makes me a nose blanket all by herself, I am stunned by her ingenuity.
What? You do not know what a nose blanket is? Why, it's a. . .oh, I'll just show you: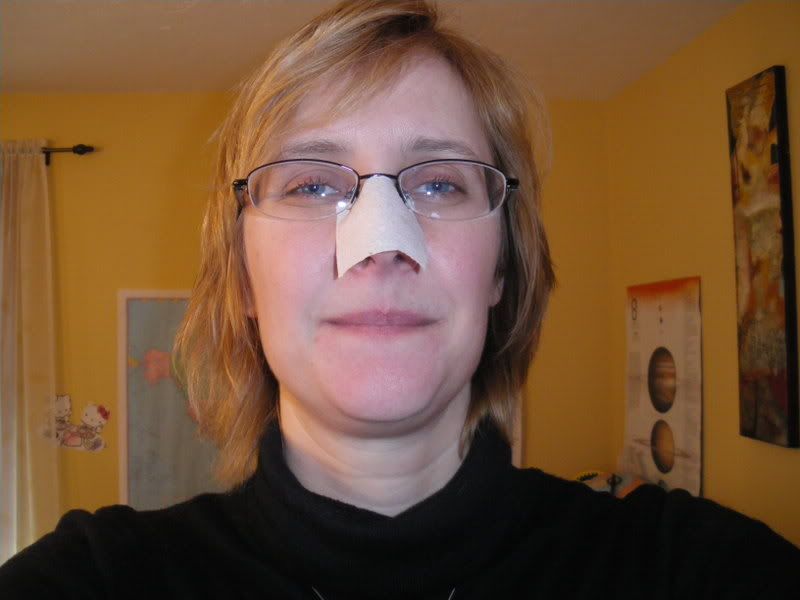 Hey, my nose gets cold easily. What's a girl going to do?
So thanks Jilly, my smart little inventor. I think you are on to something.
And, I think D is trying to tell you something:
"My nose is cold too!"
—————————————————————————
I have a guest post today on MamaPop. If you would like to read of my affection for an Italian chef, I'll see you over there.
And, check out Fairly Odd Reviews for a little shout-out to the ball of fur in my life.