Girls can do anything.
Girls are powerful.
Girls can get dirty, play sports, wrestle and tumble and burp and make noise.
Right?
Let's pretend you are from another planet and came upon Target's Spring 2009 "Kids" catalog. Look at the cover and you'd see a little girl actively bouncing on a pogo stick: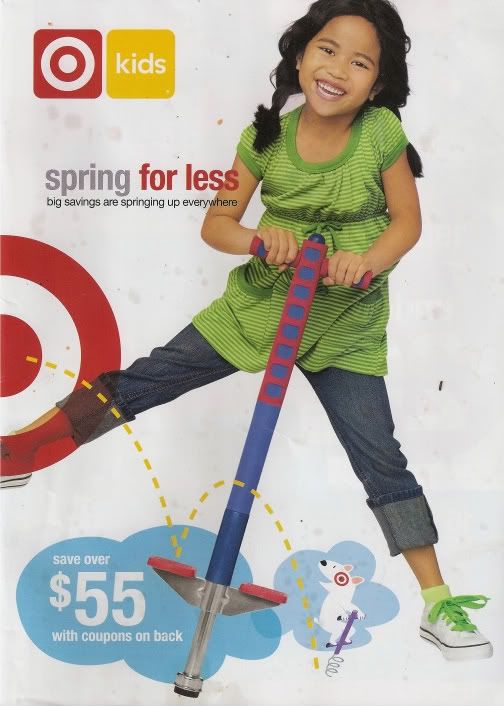 Cute, eh?
But, then, inside, you come to the section titled "Twirly Girls". Now, as a total stranger to Earth, how would you describe these creatures known as "girls"?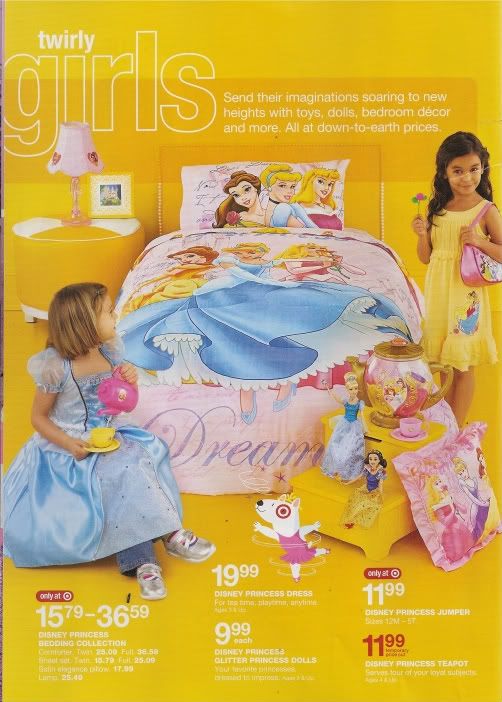 frilly, dainty, princess-like?
obsessed with branding, fashion, pink?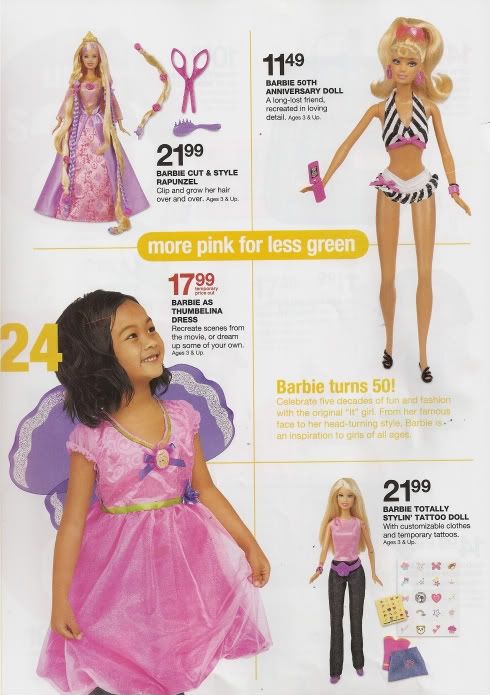 forever daydreaming about becoming a princess or a bikini bimbo?
nurturing, motherly, sweet?
And, what about the boys? Here is what you'll see in the circular under "Wonder Boys". How you describe these strange creatures, oh Visitor From Another World?
active, fast, noisy?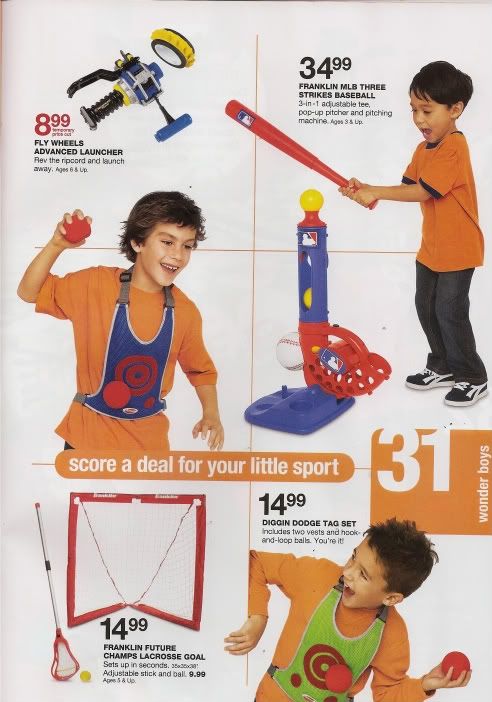 competitive, sports-loving?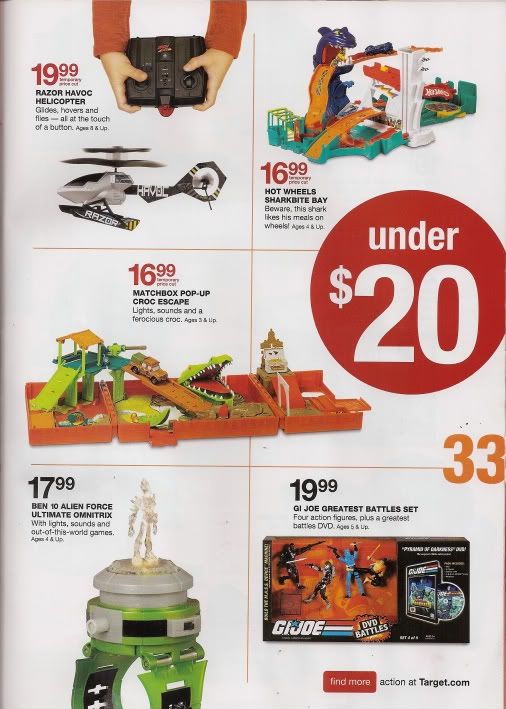 gadget and action-loving?
As Ilina wrote on Deep South Moms, "if you wander the toy section (of Target) you will see a clear gender delineation. The kitchen stuff is all pink and ruffly. Even presumably unisex things such as instruments and hand held games scream with cotton candy pink and rugged camouflage. The toys geared toward boys are so jacked up with testosterone that I find myself puffing out my chest in a show of manliness."

And here I thought we'd come a long way, baby. I thought boys could be nurturing, dream-filled chefs. Wasn't there a song on Free to Be You and Me about William and his doll? And, what happened to girls playing sports, being strong and wanting to grow up to be more than Barbie?
Whose fault is this? Is it us for buying into these gender stereotypes?
I'd like to say no but I clearly recall a mom I know quaking in fear that her young son had asked for a toy kitchen. A kitchen! She was worried because this was a "girl toy".
And, I recall a neighbor seeing my son with red painted toenails last summer. I had painted them when I painted the girls' toes figuring, "heck, it's just paint and he's three"—not exactly a prime peer-pressure age. This neighbor (a man) said to my son, "you'd better not let your daddy see those toes!".
Give me a break.
I have nothing against girls wanting to play with Barbies, but realize that my son plays with them too, albeit differently than his sisters (he likes to drive them around in a Barbie-mobile). They all play with Legos, toy cars, dress-up clothes, stuffed animals, arts and crafts, even the "girlie" play kitchen. They all use their newly obtained magic wands as weapons.
But, more than 35 years after Free to Be You and Me, we are still being told that girls are "sugar and spice" and boys are "snips and snails and puppy dog tails".
And we're buying it.