Do you remember Nipplegate '04? That was when Janet Jackson's nipple "accidentally" jumped out of her top during the Superbowl Halftime show, and the entire world went bananas.
Where are those bananas now?
I just read on Gray Matter Matters that none other than The Pussycat Dolls performed at Nickelodeon's Kids' Choice Awards last week.
The Pussycat Dolls? The ones who did this song? (definitely not safe for kids & I'm proud that this is the only song of theirs I know).
Whoa.
Let's see: the target audience for the Kids' Choice Awards is, um, KIDS. And, apparently, loads of them:
(from Kids Choice Awards Press Kit):
Highlights of Nickelodeon's 2009 Kids' Choice Awards include:
This year's show scored its biggest overall audience ever! A record-breaking 7.7 million total viewers (P2+) tuned into the slimiest Kids Choice Awards yet, marking the fourth consecutive year of growth with this demographic.
The live telecast earned its biggest kids 2-11 audience ever — an 11.0/3.8 million K2-11 — trumping last year's show, the previous record holder.
This year's show was the highest-rated and most-watched with kids 6-11, averaging a 14.2/3.0 million K6-11.
The show averaged a record 13.7/2.9 million T9-14 — its highest rating ever with tweens — and posted gains of +10% over last year.
A record 4.6 million households (a 4.7 rating) tuned into the show.
That's a whole lotta bugged-out eyeballs watching that show.
Who are the Pussycat Dolls? One would hope their image isn't all R-rated. Well, here is the first image I saw when I Googled their name: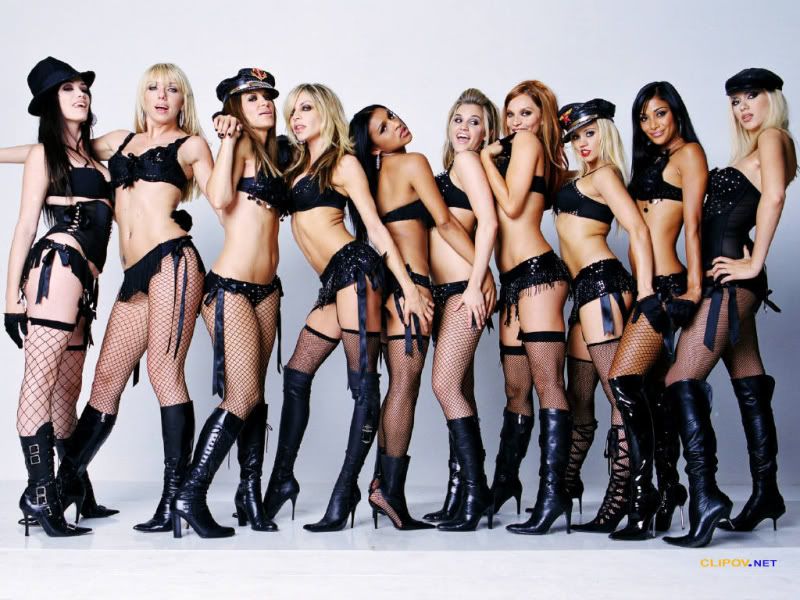 Lovely. You know, if my husband wants to ogle them, more power to him. My eight-year-old daughter though? No thanks.
Need more? The Pussycat Dolls originally started as a burlesque group. "Burlesque" is defined as "A variety show characterized by broad ribald comedy, dancing, and striptease." Somehow I don't see them doing "broad ribald comedy".
The group has also "been criticized for its overtly sexual image and explicit dance routines" in the past.
And this is who Nickelodeon thinks is appropriate for their huge audience of kids ages 2-11?
Really?
Nickelodeon, I no longer trust you to provide any entertainment to my children.
Really.