Our quick jaunt to Cape Cod last week included time for one full beach day. I decided to take us to West Dennis Beach in, uh, West Dennis, because it looked beautiful, was nearby and had loads of parking for us fashionably late beach goers.
When we pulled into our parking spot, my oldest, Belly, screeched, "WHAT IS THAT!?!"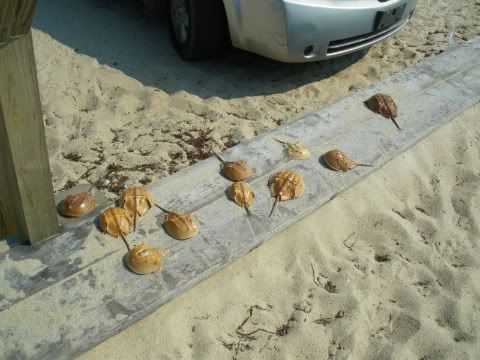 "That" were horseshoe crabs, most likely brought up to the parking lot by some excited child and left behind by a horrified parent who noticed them as they packed up the sand pails.
We walked down to the water's edge and I started to get itchy because there were more. Literally, dozens and dozens of horseshoe crabs beached at the water's edge, up and down the shore.
None of them were alive.
"What the hell happened??", my brain asked in a high-pitched voice. Was there some sort of mass suicide of horseshoe crabs? And, why weren't the lifeguards screaming and pulling us off the beach? Surely there must be something wrong with the water if all of these creatures were washing up, lifeless, onto the shore.
I started to feel a little panicky, especially when D tried to pick one up and I got the crab mixed up with the stingray that killed the Crocodile Hunter. "PUT IT DOWN!"
And then I noticed something. There were kids playing with the crabs. There were horseshoe crab sculptures made out of the little bodies. There were castles built to house the lifeless shells. There were sand pails filled with the critters.
And strangely, there were seagulls still pestering us for snacks. Hey, seagulls, don't you see the crab buffet at the shore?
This, along with the strange color and small size of the crabs made me suspect that perhaps this wasn't a mass suicide or death by poisoning.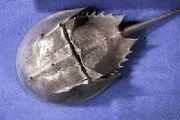 (here is a "normal-looking" horseshoe crab)

I came to conclude, and perhaps correctly, that the crabs were molting and the little shells we saw everywhere were just their discarded too-small outerwear. Thinking of them in this way made it a bit easier to deal with their presence.

But, there was still no way in hell we were going in the water on this beach trip.