The book was supposed to be called Don't Let the Turkey Drive the Motorcycle.
Instead it will need to be renamed, Don't Mess With the Motorcycle, Turkey, or the Police Will Pop a Cap Into Your Feathered Behind.
Yes, Freddy the turkey met with the long arm of the law and was shot to death on Friday by our town's police.
What was the crime? An unnatural, some say obsessive, love of motorcycles. . . and donuts.
Freddy loitering outside our local Dunkin Donuts and trying to look nonchalant next to the hunka hunka burnin' love next to him.

But, when Freddy flew in anger at a motorcyclist who tried to kick him, the jig was up. Under advisement from our state's wildlife organization, this turkey had become too much of a nuisance and was not recommended for return to the wild.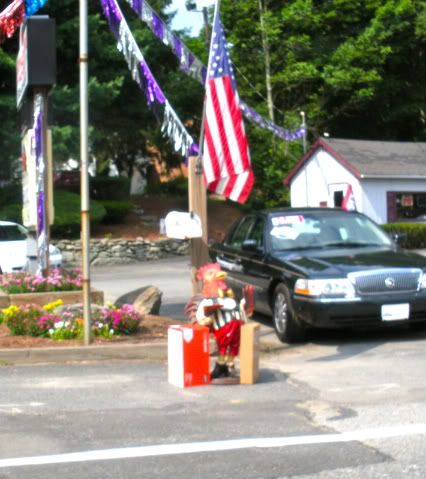 (memorial erected in honor of Freddy)

RIP Freddy. It's too bad more people can't slow down enough to see the humor of a turkey that love donuts, motorcycles and strolling down a suburban street in broad daylight.