All weekend, I heard the same thing from Jilly: "I'm going to drown".
At her swimming class a few days prior, her teacher had pulled me aside and said that she'd like to take the flotation (aka, the bubble) off of Jilly because she was more than ready to let it go.
Actually, she had been more than ready to let it go this summer, and spent most of her pool days swimming without one, jumping into the deep end without any flotation at all.
But, at swim lessons, with all those laps? She wanted that bubble.
So, I endured nights of everything from "please let me wear my bubble", to "fine! I guess I'll just go and drown!" (followed by a little toss of the head). I wasn't completely unsympathetic; I'd point out the number of lifeguards and the lane markers that would be right next to her while she swam. Heck, her teacher told her she could use a noodle to swim with for the first few classes!
But, on Monday, as we walked toward the pool, she wasn't buying any of it. "Goodbye. I'm going to drown now," she said as she stalked away toward her teacher.
Yeah, whatever. She did great. And, she even managed to look both proud and a little sheepish after class.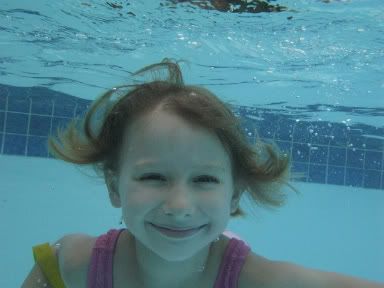 Jilly, still wearing her bubble, but definitely not looking sheepish in this summertime photo taken by Mr. Q, my brother-in-law