This is me at the beginning of my 17th year, the summer before my senior year in high school: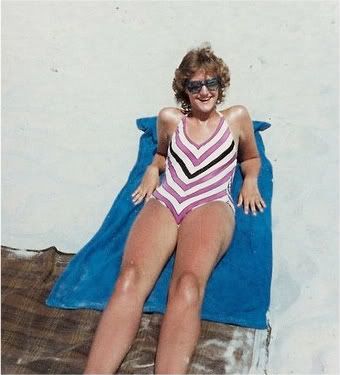 What do you think when you see this photo? "Nice suit!" "Whoa, perm!" "Looks like someone should wear sunscreen!"
Or, do you blurt out what a guy in my high school said when I showed him the snapshots of my friends and I at the beach: "Wow, I never realized your legs were so fat."
As soon as the words were out of his mouth, he started backpedaling and tried to make it sound like a joke. I smacked him on the arm and tried to laugh it off.
But, I didn't really laugh.
It's 25 years later and the memory of that moment still makes me wince. It makes me feel shame, as if I did something wrong.
One comment planted a seed that grew and grew, helped along by other moments in college, until I did some drastic things in order to achieve some "ideal" look. I'm fortunate that, years later, I no longer battle the demons of extreme weight control, but that doesn't mean I always love what I see. And as the holidays of excess—Halloween, Thanksgiving, Christmas—approach, I have to remind myself that I am so much more than the size of my thighs or stomach.
With two girls looking at me for guidance, I want for them to know that their mom is ok with her body now. But, for mercy's sake, please don't let it take them as long as it took me to get to this point.