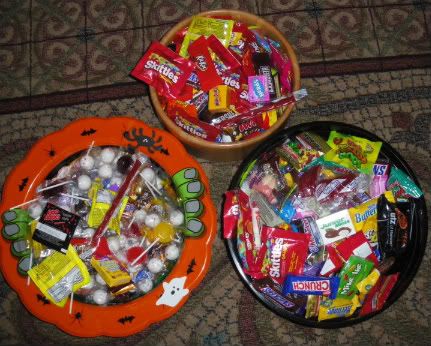 Do you wish there was more candy in your house right now?
Yeah, me neither. We have mounds of it here, in all its pre-packaged loveliness. For now, I'm stealing my kids' Butterfingers, but in a few days I'm going to want it out of the house. Yet the thrifty part of me just can't toss it in the trash.
So, instead, I'll send it overseas, where the good men and women in our military can enjoy the fruits of our trick-or-treating.
If this sounds interesting to you, I've found two relatively easy ways to do this:
1) Operation Gratitude: While Halloween Candy isn't exactly at the top of their list for "most needed" items, it is something they happily accept. They even suggest you hold a "candy collection drive" among your friends and neighbors (you must mail your packages before December 5th). I haven't seen their flyer, which you can request by emailing OPGrat@gmail.com, but think that all types of candy are ok, as long as it is individually wrapped (no homemade popcorn balls, perishable fruits or baked goods). They also are looking for personal letters for the troops, so now is a good time to have the kids do some cute holiday coloring pages to include with your candy.
Operation Gratitude's website is a little confusing, but details about where to mail (scroll to the bottom of the page) are listed on the site . Note that you are only paying to ship to California (not Iraq or Afghanistan), but you can include an $11 check to cover the cost of postage overseas–just send the check separately from your candy.
2) Another great way to unload your Halloween candy is to check out the Any Soldier website. Here, packages are delivered to individuals volunteers who then pass them on to soldiers who don't get much mail. That soldier then shares his package with his troop.
I found this website even more confusing than Operation Gratitude, but there are a ton of FAQ's to help you along. Any Soldier is great if you really want to specify which branch of the armed services your package is to go (look at menu under "Home"). You are also more likely to hear back from the recipient of your package since it goes to a specific Any Soldier volunteer. These volunteers may also request other things their troops need, so you can round out your care package with more than candy if you so desire.
Now, aren't you glad you let the kids talk you into two straight hours of trick-or-treating?