"Can I touch her?", he asks about our new pet.
The smile on his face as he watches her move around our house is one of wonder, of happiness. He laughs and laughs and laughs. He chases her around the room, then runs the opposite way when her little brushes come for him.
She doesn't bark or meow. She hums.
And best of all, she doesn't shed on the rug. In fact, quite the opposite.
Meet Lucy. Our Roomba. We love her.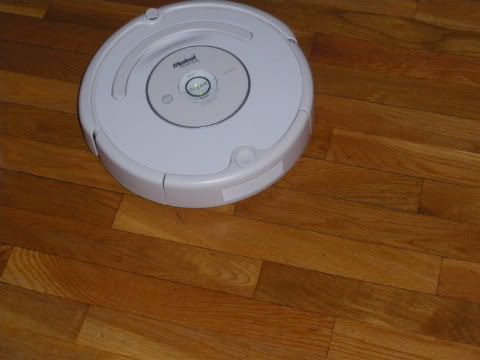 (note: Lucy was a Christmas gift from my mom—ok, FTC? The Roomba pictured is actually Lucy II. Lucy I was originally named Jeeves because I wanted a male robot. But, then Issa warned me that her first two Roombas, both named after men, died too soon, but her third, a woman, has lasted years. I quickly changed Jeeves to Lucy, but it was too late. His/her brushes stopped working shortly thereafter and he/she was replaced with Lucy II. I learned my lesson.)