It's March, and you know what that means???
Why, yes, it's time for me to take a walk down memory lane, specifically to take a stroll down Colonoscopy Boulevard.
And in honor of National Colorectal Cancer Awareness Month, I have the pleasure of seeing my post published on the front page of BlogHer! Good thing I'm not shy about sharing!
Please stop by, and if you have a parent or spouse who has been putting off getting a colonoscopy, send 'em over there and hopefully I'll be able to convince them to get it done now.
Get your colonoscopy in March and start spring with a clean-as-a-whistle colon!
(I just don't understand why I'm not writing slogans for a living).
————————————————–
In other news, my son is, well, odd.
Want proof? Lately he has been sleeping with a new lovey; two, to be specific.
His loveys are oval and brown and fit nicely into his hands as he takes the trip to slumberland. They smell like dirt.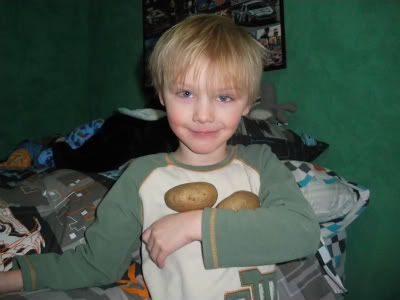 Yes, he has been sleeping with two russet potatoes. One is Ron, the other is Roy. Don't ask me which is which.
As odd as this is, it just can't be the weirdest lovey ever, so please leave me a comment and tell me: What is the strangest thing your child has adopted as a nighttime lovey?