About a year ago, I got to try out a cool new math program for K-2 students called DreamBox.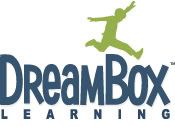 I ended my review with this sentence:
(The) only thing I wish? That DreamBox went on to even higher grades. It'd be nice to have their support in a few years when we get to the really tough stuff, like Calculus.

Well, they haven't gotten to Calculus yet, but they have added 100 third grade lessons just in the nick of time, as I am about to beat my head into the ground trying to get my third grader to understand multiplication. Oh, she memorizes the facts enough to get by, but does she really understand what those numbers mean?
Which is why I love having a program like DreamBox in my arsenal. Not only does it reviews facts that kids learn in school (public, private or home), but it shows kids how to approach math from different angles, knowing that not all kids "see" things the same way. And since it's a dynamic internet site, it adjusts the lessons to fit a child's ability, repeating skills that weren't quite mastered, and letting kids breeze through skills that come naturally.
The new third grade level approaches multiplication in a few different ways, by using a number line, picture arrays and area models. Kids also play games to "find the factor" for a product, something that will come in handy when they get to division.
And since their lessons are based on skills set by the National Council of Teachers of Mathematics, I can feel pretty good that these are skills my kids should know.
Plus, unlike some math "game" websites, I don't just throw them on Dreambox and hope for the best. Instead, I get regular email updates and have access to a "Parent Dashboard" so I can see where my kids are on the program, how much time they've spent and what skills they have mastered to date.
But, as much as I'd like to find a program that take over math in our homeschool completely, please note that I recommend Dreambox in addition to whatever regular curriculum you're using. I think it'd be a great, dynamic addition to the classroom, especially since teachers could pretty quickly see how each student is doing. And, since it's designed to be fun and has incentives for kids to keep going, I find my kids spend more time on it than any other math website we've tried.
Want to see a demo about how DreamBox works? Check it out here:
Congrats to Heather for winning a free month of DreamBox!
You can also try out DreamBox for two weeks for free; see the details on their website.
I haven't been paid by DreamBox for this review, although they did let my kids tool around the site for a few weeks to test it out.