When I found out I was having a third child several years ago, my first thought flew to Jilly who was going to quickly become a "middle". For some reason, middle children were the objects of much pity when I was younger. Woe is the poor, neglected middle child, and all that jazz.
I bought a birth order book to figure out how to keep my middle child from being totally screwed up by her place in our family.
I shouldn't have worried.
If memory serves me correctly, this book basically said that "middles" were some of the most well-adjusted kids in the family. They weren't pressured and hovered over like first borns, and they weren't babied like the, well, babies.
And, while Jilly is only seven, I think this book may have been right.
A good friend recently wrote about her:
I don't think I've ever met anyone who is so unashamedly *herself* as (Jilly).
I LOVE this quality in her. I love that she hugs everyone, including adults who often look so surprised when they find her arms around their waist.
I love that she dances backwards in the supermarket while I push the carriage toward her, singing "you can't catch me, you can't catch me" as she boogies through the store.
Here she is dancing in Express:



I love that when her YMCA camp held tryouts for their YMCA's Got Talent show, she tried out. By singing opera.
I asked her, "what are you going to sing???" and was told, "Mom don't be silly! Opera doesn't have any words!" She didn't make it to the finals, but she was content with her lollipop for trying out.
And when the last day of camp came to a finish on "Hollywood Week", she donned an outfit much too warm for the 80 degree morning, but she sure looked cute.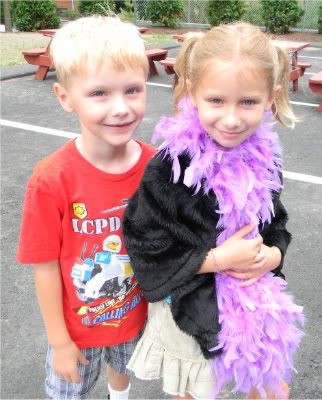 Her fashion sense is ridiculously awesome. I only wish I could dress with as much freedom as she does. And look so cute in knee socks.
I think my "poor middle child" is doing okay, don't you?