If I didn't know any better, I'd say I'm going into labor in about two weeks.
I have been on an organization, clean-up-this-house-if-it-kills-me kick for the past few days, probably spurred by the fact that the month of August was spent out gallivanting or hosting guests. In other words: The house was neglected.
As of this week, my dining room table was still piled high with last year's homeschool curriculum and papers. The girls' bedroom was a disaster, the kitchen table (aka "my office") was littered with bills, papers, and CD's to review.
And so, after the kids went to bed, instead of working, watching TV or talking to my husband, I started to organize. First was the dining room/school room. Then it was my kitchen table. This morning, the girls and I cleaned their bedroom. This weekend, the basement will feel my wrath. (Note to my husband: If there is anything you want to stay, you may want to bolt it down).
Also on my to do list: organize the hall closet which I'm afraid to open for all the blankets, comforters, towels and sheets stuffed in there; go through the clothes in the attic to see what fall clothes I can find; mail/drop off donations of clothes, toys, CD's, books, etc.
Oh, and try to do something with these two monstrosities (they look so much worse in person):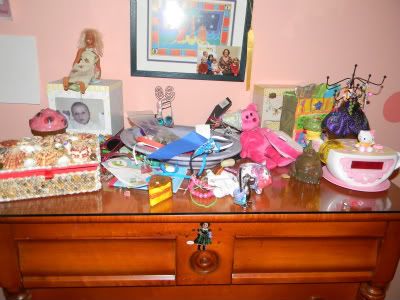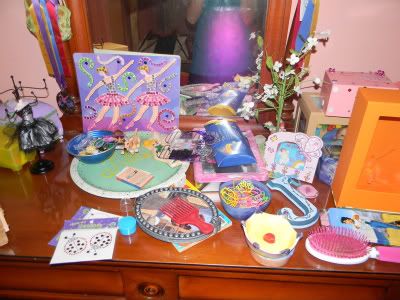 They are the tops of the girls' dressers, and they are awful. If anyone here has a good storage solution for all the minutiae my girls collect, please speak up. I'd like to sweep it all into a giant garbage bag (save for my original "Dusty" doll!), but I think my girls would smother me in my sleep if I did.
Once this is done, I should give birth to a (fairly) organized house by about October.
Can't wait to meet the critter.