This post is part of a sponsored series from Ubisoft, celebrating "12 Days of Giveaways." See below for how you can enter up to 12 times to win fun and family-friendly video games.

Back in August, for one fleeting moment, I was a dancing queen.
It was BlogHer 2010 in the Ubisoft booth on the Expo Floor. Battle of the Bloggers was taking place on the Just Dance 2 stage, and I had somehow won the semi-finals dancing to Beyonce's Crazy in Love.
So it was on to the finals, to dance to The Rockafeller Skank by Fatboy Slim. It was close, oh so close, but I didn't win. Though I did manage to get all of my limb-flailing and lip-biting on film for all to see.
Ever since seeing these videos, my kids have been bugging me for a copy of Just Dance 2, and they are leaping out of their skin knowing that one is on its way to our home Right Now. (the first didn't make it in here on time, but I've been assured a replacement is on its way; back away children)
And just as soon as I can get goofy film of my family dancing? You can bet I'll post some video up for all to see. I'm fair like that.
(UPDATE: ok, I did get video of my husband and brother-in-law dancing to Jungle Boogie, but in the interest of preserving my marriage and family relations, I will not post it here. Instead you can read about my latest feelings about Just Dance 2
here
)
Want your own copy of Just Dance 2?

Leave me a comment below and tell me which song you'd pick first if you win.
CONTEST IS CLOSED! Congratulations to commenter #37, Greenlancer who will get to try out Proud Mary very soon.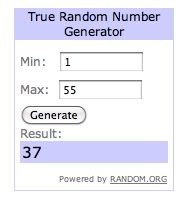 Thanks to everyone who entered to win!
Can't wait? Just Dance 2 is also available on both Amazon and Toys-R-Us, though Amazon squeaks a dollar off the price.
Want more ways to win great games for the whole family? Visit each of these blogs during our 12 Days of Giveaways from now through December 3! Find their post from today and leave a comment to enter to win.
Please visit these participating bloggers for more chances to win games, including Just Dance 2 (Wii), Battle of Giants: Dinosaur Strike (Wii), Petz Fantasy (DS) and Petz Nursery (DS)!
I was selected to participate in this sponsored series by Ubisoft and Clever Girls Collective. I received a video game (it's on its way!) and compensation for my participation in this program. We believe in Blog With Integrity.