I spent many, many hours sitting in a dance studio this year. All three of my kids took dance this year: Belly in Ballet 2/3, Jilly in Beginner Ballet and even D who took an all-boys' hip-hop class.
Sunday there were two recitals. And I got to help get them dress up to look like this: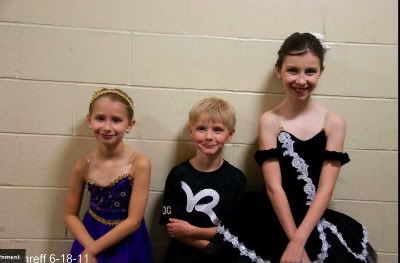 The girls were in both shows, D was only in the matinee though he danced twice. There were technical difficulties in his first performance that cut the boys off before they could do what all us parents were dying to see them do: Freestyle.
If you have never seen ten little boys under the age of 8 freestyling, I'm sorry.
D perfecting his freestyle headstand
A perfect "X"!
I love seeing Belly dancing on stage because I think it shows how far she's come—anxiety or not, that girl can conquer it and do this:
I love her hands in this photo
Belly has what I call "Tall Girl Shoulders". I should know, I had them too. Her ballet teacher and I are always reminding her to stand up tall and proud, not an easy thing when you are near girls who quite literally a head shorter.
And then there is Jilly. When she was three and in a little YMCA dance class, the teacher pulled me aside and said, "she needs to get into a real dance class."
She takes my breathe away on stage because for a child who can trip over air and create so much noise, it's amazing how much she transforms into a tiny ballerina when the music starts.
My husband later lamented that he didn't get any good pictures of Jilly dancing. I think he was too spellbound to put the camera in front of his face.
I took this photo at the dress rehearsal
Next year, Belly will leave ballet for lyrical jazz and hip hop. Jilly will move to Ballet 2/3 and is adding hip hop too. D is undecided but I really hope he sticks with hip hop because he is so much fun to watch.
I must be crazy. I have pretty much insured I'll be sitting in the dance studio twice as long next year. But, it's the day after the recital, and my head is filled with the visions of my dancing sugarplums.