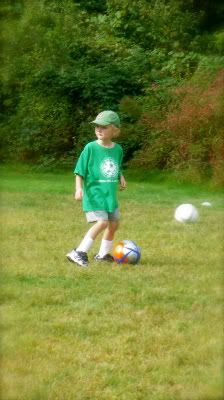 A couple of weeks ago, a friend was telling me her son wanted to play soccer in their town's recreational league, but she had a problem. Her son was too old to be "a beginner".
Around here, soccer is a big deal (probably for you too?), with recreational leagues starting for kids as young as 3 and "travel soccer" teams—these require try-outs—beginning in third grade. You can spot the soccer kids pretty early—they can dribble and shoot and run like a grade-schooler before they can even tie their own cleats.
But, my friend's son is seven. And that bummed me out. Is seven now considered "too old" to start a sport?
She isn't alone in feeling this way. In fact, I clearly remember when Belly was playing first-grade soccer, and I looked over at the second graders playing and thought, "she's going to get crushed in there." To Belly, soccer was fun, social and not really all that competitive. But the girls in the grade above were a well-oiled machine at seven. I can understand my friend's hesitation to throw her son into it.
Another example: My friend's daughter is a gifted gymnast, but never took a serious gymnastics class until she was ten. When she began, she was told that she may be too old to get onto the more competitive track because of her age—the other girls had started training much, much younger. (thankfully, I think her ability convinced them otherwise, but if she had been 11 when she started? probably not)
Want to play football? Don't wait too long. . .our town's third graders start practicing daily in August. . . if you wait until junior or (gasp) high school to try out for a sport, you'll be years in training behind some of your peers.
What about ballet? Jilly's Pre-Ballet class had only one ten-year-old in it; everyone else was younger. Not such a big deal if you are small, but a tall twelve year old would tower over her much-younger classmates.
Now, to be fair, I don't think that most of these classes/teams/groups overtly state that older kids can't join in—-but older kids will surely notice that everyone seems to have gotten on board a lot earlier than they, and I imagine this discourages a lot of kids from even trying.
What do you think?
Is this a parent-created problem in that we're worried about our kid being the worst one on the stage/field/mat, so we discourage them from starting something much later than their peers?
Or, do you think your kids don't want to try out for something new because they'd be starting at square one when their friends are already on square 15?