If I had to pick one catalog that sums up my kids' wish lists for this holiday, it'd be the LEGO catalog for my son, the American Girl catalog for Jilly, and Think Geek for my oldest daughter, Belly.
Today, she was musing about her favorite items as we drove around town.
First, there is this tee, from one of her favorite movies (you know which one this is, right?). And, yes, her accent is perfect.
Then bacon + chemistry = funny! Also, funny—she mentioned two t-shirts as her "favorites" in one breath and then reminded me that she won't wear a t-shirt. She's quirky like that.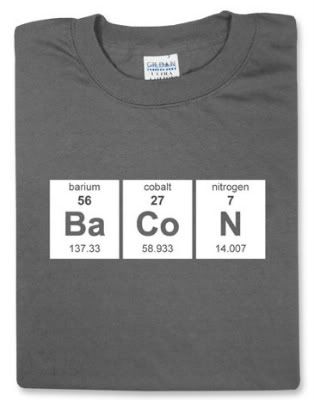 Finally a giant gummy bear that lights up? Is this geeky or just awesome? I'm going with awesome. Can't wait until she opens this one (thanks Auntie Nancy!).
Let's hope this love of geeky things translates into a love for math before we hit Algebra.