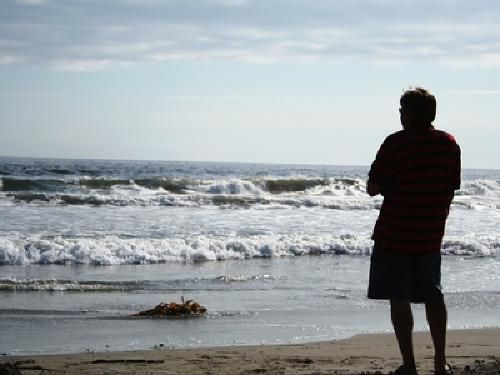 When my dad was undergoing chemotherapy, I found an article in People magazine about an organization called Chemo Angels, where people with cancer (or their families, on the cancer patient's behalf) can sign up to receive notes of encouragement and even small gifts from virtual strangers. I never did sign my dad up, because I figured he had plenty of friends and family to provide that kind of support.
But, the reality is that friends don't want to "drop in" on someone after they've had a chemo treatment. Even family can get busy with life and not visit, call or write as much as they'd like (I know I was guilty of this, as I gave birth to my third child in the last four months of my dad's life). People don't know what to say or how to act. Plus, there is so much loaded emotion in watching someone you love struggle through treatment, especially when it becomes clear that treatment isn't working. I used to stand outside of my dad's hospital room door and take deep breaths before I walked in, so that I could control myself enough to not burst into tears upon first glance.
It's no wonder so many of his friends stayed away.
After he passed, I signed up to be a "card angel" for Chemo Angels which means I send notes/cards/letters ("chemo angels" send small gifts) to my assigned patient at least once a week. These notes must be "tangible", no email or virtual cards, though some families do provide an email for additional notes to be sent.
My first patient was a 70-something year old woman with lung cancer. I wrote her notes about the weather in New England, funny stories about the kids, little uplifting sayings I'd heard. . .anything to take her mind off of the chemotherapy she was undergoing.
I've had a couple of "my" patients pass away, but my lung-cancer patient was not one of them. She finished her treatment and sent me a lovely note of thanks. That note really touched me and made me realize that my one-sided babbling notes had actually helped take her mind off of what she was going through.
I now am finishing my time writing what is probably my sixth or seventh patient. And this one has touched me the most.
From the outset, this one was different. His wife reached out to me immediately, sending me emails and photos of their lives together. She even included me on their Caring Bridge site where I saw photos of a vibrant, handsome, smiling young man rollerblading down the street, traveling the world, hugging his wife. I saw photos of his hair turning gray, his body going from rollerblades to a wheelchair.
And now he is in hospice with only a short time left. He is only 53 years old. And that is him in the photo above.
I am so grateful that they have included me in this short but important time in their lives. I had been wavering in my decision to remain a "card angel"—life is so busy right now and was I really doing anything worthwhile in these weekly notes?—but hearing from her has reminded me of my dad and how little he heard from those close to him when he was sick. For him, and for so many other people who just want to be remembered when they are sick, I will keep writing.
Life just isn't that busy, really.
——————————————–
I've written about Chemo Angels before. For more information on how you can join or donate, please visit their website.