The rains have finally stopped in our area of New England and, other than a very soggy yard, we've been very, very fortunate. But, watching the news of all of the swollen and overflowing rivers brings back memories of a time when the knock on the door of my childhood home was from a policeman telling us to evacuate.
I grew up in Agawam, Massachusetts, just a couple of streets from the banks of the Connecticut River. In June '84, the banks overflowed and came down my street.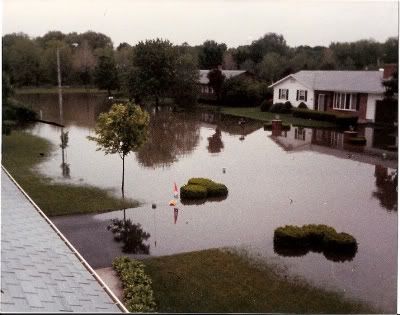 (the Barbie sailboat was my sister's and often had a beer floating on it for my dad who stayed behind to pump out our basement and watch our cat)
The water never entered the first floor of our ranch, but it got pretty close (our house is the yellow one to the right).
My mother, however, was a nervous wreck.

And now, after watching our yard fill up with water, checking to see if our basement was dry–still dry–, hearing the news stories of evacuations and damage and crumbling dams, I finally understand why she was so nervous.
Mother Nature, take it easy on New England this spring, ok?