I don't spend a lot of money on clothes. 99% of what I own comes from Old Navy, Target, Kohls and Payless. I don't think I'm "cheap", I just have a hard time spending loads of cash on any single item of clothing, my wedding dress included.
There is a good reason for this. I am a klutz. I spill, stain, rip and stretch everything I own.
I was reminded of this, painfully, last night.
A year ago, I went beyond my comfort zone and splurged big time on a pair of worth-every-freakin'-penny jeans to wear to a "Black-Tie-and-Denim" fundraiser.
I've worn these jeans maybe a half-dozen times since, reserving them for special nights out instead of days sitting on the floor playing Legos.
And, oh, how I love these pants. These are the kind of jeans that make you understand why people pay so much for good denim. They shave off 10 pounds instantly, never pinch around the waist and are so soft, I'm surprised I haven't worn a hole in the thighs from rubbing my hands up and down them.
But, minutes after stepping out of the car last night for date night with my husband, I did this: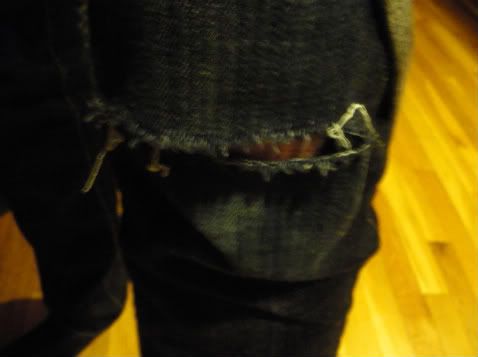 I didn't cry. I know they are jeans, not my wedding ring or even anything sentimental. But, I did wimper. A bit. And, then I went to the bar and drank a lot.
My husband, trying to cheer me up, announced I should put a big patch on the rip and "own it"! I am thinking maybe red embroidery thread to close it up. If I were 20 years younger, I'd rip more holes in them, bleach a few patches and call it a day, but I'm not 22 anymore.
So, c'mon fashionistas, help this poor mama salvage her favorite jeans. Otherwise, I'll be afraid to ever spend over $25 on a pair of jeans again.