(check out the giveaway at the end!)
I usually avoid taking the kids clothes shopping like the plague: Isn't that why online shopping exists?
But Thursday, I brought the three kids to check out the new OshKosh B'gosh store opening not too far from where I live.
Why? To see these people: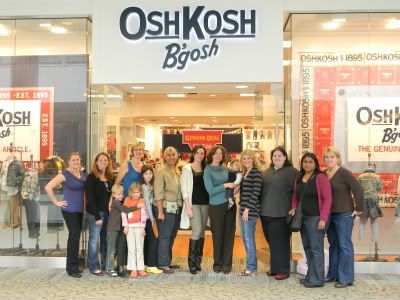 I also went because my oldest has been lamenting she has nooooooo clothes. And when I switched her bureau from "warm-weather clothes" to "cold-weather clothes", I found out that she wasn't kidding. One shirt. No pajamas.
We call this "restocking"
I didn't forget my other bambinos. They got stuff too. Though they were too busy making faces in the fun-house mirror next to the changing room.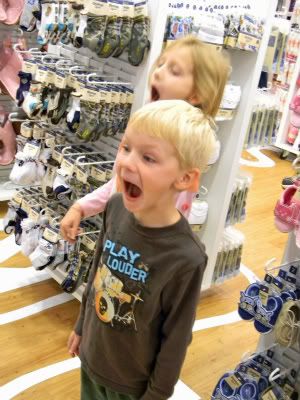 Fun-house mirrors add 10 pounds to your hips. And to the top of your head.
Admittedly, I had no idea what OshKosh clothing looks like. . . it just hasn't been on my radar screen. I'd now described it as easy-going, every-dear wearable clothes for kids that are somewhere between affordable and "Oh-My-This-Is-Only-How-Much?Give-Me-Two."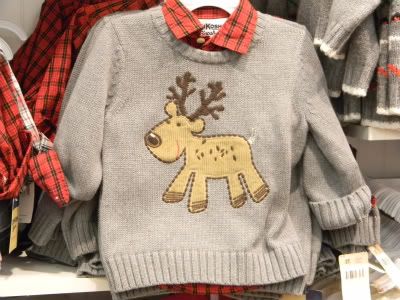 And check out this little guy! If only my six year old wasn't past the age of letting his mother dress him in cartoon reindeer. Sigh.
Holy Overalls! Too cute for those little half-pints out there.
In the end, we left with four shirts, three sets of pajamas, a button-down shirt and a pair of gray boys' pants for about $120; OshKosh kindly gave us bloggers $50 gift cards* when we entered the store, surprise!, so my total was even lower.
The prices are great, just make sure you pay attention to the many signs that list what the discounts are (percentage off vs buy-one-get-one; if I had paid attention, my shopping bag could have included an additional set of pajamas for the same price). Most of the discounts I saw on the signs were upwards of 40% off, so get ready to do some calculating!
I was also given a $25 gift card to give away to one of you. It can be used at any OshKosh B'gosh store, or online, so no need to live in my area. I'll select one reader randomly to get the gift card—just leave a comment below and let me know the one thing you saw on the OshKosh B'Gosh website that you'd love to get for your child. (CONTEST IS CLOSED: Congratulations to Commenter #4, Mami2jcn, for winning the gift card!)
*OshKosh B'gosh gave all invited guests a $50 gift card for spending and a $25 gift card to give away, as a thank you for coming to the store. No post was promised, nor did I even know we were getting a gift card before we agreed to attend.