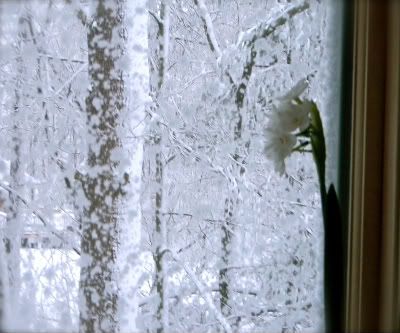 It's frozen, snowy and cold outside. And still, the ugly little bulb bursts and pushes a green stalk through the wet pebbles in the glass, until it blooms into something so simple and pretty. She isn't much to sniff, this paperwhite, but her delicate petals stand defiantly against the stark backdrop.
January has been a tough month. My oldest turned ten despite all my efforts to slow down time, heels digging into the ground like the anchor on a loosing tug-of-war game.
My weight is also creeping up beyond what I'd normally shrug off as "winter insulation", and yet my desire to do any physical exercise is lost in chocolate candy wrappers that crinkle as I unwrap them.
I hang on to our daily school schedule like the structure, the deadlines, the check marks will begin to make sense, my voice tired from yelling, pleading, bargaining. I just. want. someone. to. listen. to. me.
The other day, my neighbor's new puppy, a fluffy white bichon frise got loose and ran out into all the blinding white. A car drove slowly up and down the street that first night, calling her name, "Liesel! Liesel!" for the little girl who would never make it through the night in this cold. We looked for her too, around our house, in our neighborhood. Even now, a week later, I hope to hear a whimper when I step into the garage and triumphantly be able to deliver a warm puppy back to the heartbroken owner.
Alas, it is too late for her.
For me, though? I hold onto that image of the flower coming out of rocks. I've got enough warmth around me to get through this.