It's been a few weeks since the last contractors packed up and vacated my kitchen, and I can now finally find things (usually) on the first pull of the cabinet or drawer. We were back "under construction" after Christmas as my husband readied the walls to paint and now the only thing to do is pick a paint color for the walls, take a deep breath, and go for it.
I've been asked to show some photos of the renovation (
Deb
), so here is what things looked like just before Christmas. Please note that the colors are a little wonky due to my over-zealous camera flash.
view as you enter room; far wall will have color on it, someday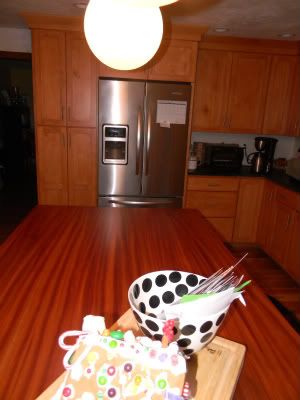 standing on other side of island looking at refrigerator (with our now-devoured-by-squirrels gingerbread house at bottom of frame)
how do you like my big balls? I almost passed out when I saw them. . .I didn't know they'd be SO BIG, but I really, really, really love them now
hard to tell, but there is a textured tile on the wall above the stove; love the range hood to pieces even though I've whacked my head on it three times already
Soapstone Spyder countertops which look darker when the flash isn't washing it out; I tell my countertops I love them every morning in the hopes that they won't scratch or chip
a better look at the countertops; putting the stone on the windowsill was important since the wood sill had been so water damaged; the undermount sink is my favorite invention since Velcro
If anyone besides Deb is still reading, I'm thinking of doing a steel gray/blueish color on the walls. I think the white (primer) is too stark, and I'm not jazzed by any other color I've seen in the four gazillion home books and websites I've viewed.
I also would like to put a neutral but dirt-concealing throw rug at my feet in front to the stove and maybe the sink.
I don't think I'll do curtains or shade—we have no neighbors back there and I wear clothes when I cook, so no need to cover the windows.
Any thoughts or suggestions for other things I can do? It looks a little stark in these photos but, trust me, it looks really lived in already.