–round and round she goes/where she stops/nobody knows–
This is a picture of my comfy, king-size bed:


I share this with my husband, John. Most nights. Often, nestled against me is my son, D, who sneaks in around 3am.


This is D's bed, in his newly painted bedroom.


However, he doesn't sleep in this bed. My daughter Jilly has decided she likes this bed. She now sleeps here, often with our dog Star stretched out along the bottom.


Where does D sleep now?




He's here, with his sister Belly, in her crowded bed.


And here is Jilly's bed.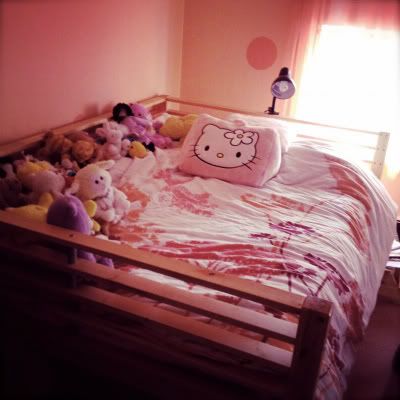 It used to be a loft but she didn't like being up high so John cut the legs down for her. Of course, no one sleeps there right now.


Though I ended up in it with Belly last night. Until D woke me up, and I ended up in Belly's bed with him.


Confused???? Yes. So am I.